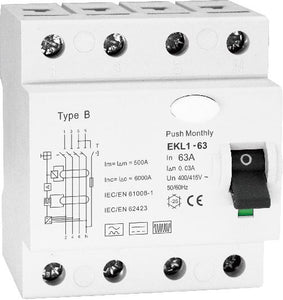 Type B RCD / RCCB 100amp for EV Charge Point Installations. 4 pole, 3 phase or single phase, 30mA or 300mA.
Regular price $186.00 Sale
Type B RCD for EV charge point installations to meet latest 18th edition wiring regulations. 100A, 30mA or 300mA (choose from options)
4 pole (3p + N) for Single Phase and 3-Phase installations
Rated for up to 100A and 230v/240v or 400v/415v installations (So could be used to protect three 32amp EV charge points on one circuit for instance, as an example)
Breaking point 10kva
AC and DC leakage protection, see picture for technical details.
NOTE: Not to be confused with Type B RCBO's, which do not provide DC leakage protection.
Free UK Next Day Delivery (Mon-Fri)
Shipping to rest of the World available, delivery prices available at checkout.
20% VAT included in price